Products
The PUREFRESH Curcuma Xanthorrhiza® range consists of a natural herbal toothpaste, an oral rinse which contain no carcinogenic, cariogenic or bacterial and fungal fostering elements. PUREFRESH® Natural Herbal toothpaste and oral rinse provide intensive therapeutic benefits during the morning and evening brushings and provide oral health and fresh breath throughout the day.
PUREFRESH® Toothpaste and Oral Rinse contain no alcohol, SLS (Sodium Lauryl Sulphate), fluoride or sugar. Instead, pure plant extracts were carefully chosen to maintain overall oral and dental health throughout the day.
So, move beyond cleaning as you buy into dental health benefits that are safe and natural. Protect your teeth and gums with pure plant extracts carefully chosen for:
An everyday, all-day dental routine
Scientifically proven anti-inflammatory and anti-bacterial properties
Repressing dental biofilm formation (plaque)
Curtailing enamel erosion and promoting remineralisation
Freshening your breath
Countering the first signs of a cold
PUREFRESH Curcuma Xanthorrhiza® Natural Herbal Toothpaste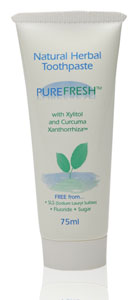 PUREFRESH® Natural Herbal toothpaste leaves teeth smooth, clean and heals minor mouth abrasions.
Because PUREFRESH toothpaste is concentrated, you only need to squeeze a small quantity onto your toothbrush so each tube will last you longer than most conventional toothpastes. PUREFRESH® toothpaste is also low foaming making it more palatable and convenient to use.
PUREFRESH's composition and method of brushing provides a new approach to maintaining your oral hygiene and counteracting harmful bacteria. For maximum effectiveness, we suggest the following:
Start with flossing or using an inter-dental brush and then rinse the mouth.
Next, using a small quantity of PUREFRESH® toothpaste, brush the teeth for at least two to three minutes to ensure that all tooth surfaces are covered.
Thoroughly swish PUREFRESH® toothpaste around your mouth and between your teeth before expectorating.
Rinse, although we would like to suggest that after your evening brush you do not rinse afterwards, as the remaining PUREFRESH® will continue acting against harmful bacteria until the next intake of food or liquid. In addition, as Xylitol works on the biofilm, its continued use ensures teeth that feel smooth and clean.
To order this product please visit http://www.masterhealthproducts.co.za



PUREFRESH Curcuma Xanthorrhiza® Natural Herbal Oral Rinse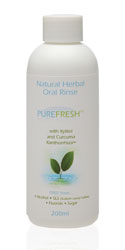 Using PUREFRESH® Natural Herbal Oral Rinse in conjunction with PUREFRESH® Natural Herbal Toothpaste will intensify the therapeutic and hygienic process as it reinforces the effects of the toothpaste while providing additional benefits by thoroughly cleaning the tongue and between the teeth. The oral rinse with its soothing anti-inflammatory properties can also be used to counter the first signs of a cold.
Use 15 ml (approximately one tablespoon) directly after brushing, swishing and swirling it over your tongue and between your teeth and then gargling. PUREFRESH® Natural Herbal Oral Rinse can also be used at intervals during the day to freshen your breath and combat bacterial growth.
To order this product please visit http://www.masterhealthproducts.co.za


This ground-breaking range makes it one of the best in the marketplace as together, these two PUREFRESH® products provide a natural, therapeutic alternative to oral and dental health which is effective and safe.